Rails World 2023
I'm just home from the inaugural Rails World conference in Amsterdam, and the word that keeps popping in my head to describe it is simply "Spectacular".
In my role at Cookpad I've been fortunate to be the driving force behind our sponsorship and support of over 50 Ruby and Rails events around the world in the last ~10 years, and it's something I'm immensely proud of, but what I just experienced was on a whole new level. Spectacularly.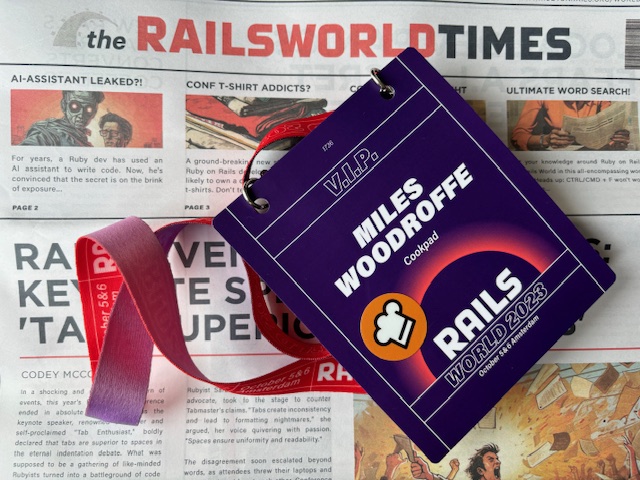 The Rails Foundation
So many people have asked me about The Rails Foundation over the last year, I thought it might be a good idea to fill in a bit of the back story, at least from my vantage point.
In early 2022 DHH shared his idea around creating some sort of organization to steward and promote Rails for the next 20 years and beyond. Made total sense to me and I wanted in.
Cookpad stepped up immediately, and it was fantastic to get that not insignificant financial backing from my company to become one of the 8 founding core members of The Rails Foundation.
After a somewhat lengthy process of forming the non-profit structure and other legal requirements that took around 6 months, the Foundation could officially be incorporated an announced in November 2022, with a generous endowment of $1,000,000 from the 8 founding core members - Cookpad, Doximity, Fleetio, GitHub, Intercom, Procore, Shopify and 37signals.
The first order of business was to search for an Executive Director to run day to day operations and implement the mission. That opening was announced at the end of November, and after a diligent process, lead us to select Amanda Perino to help lead our mission in February 2023.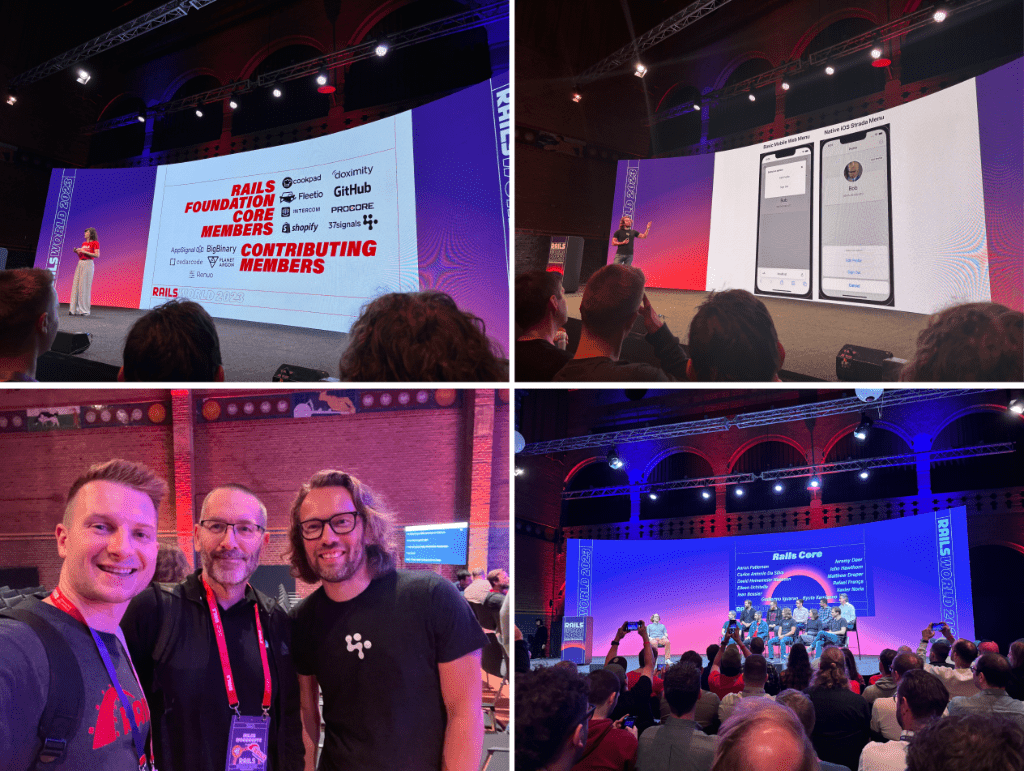 A New Conference
Along with new documentation and training initiatives, the other key objective of the foundation was to create a new landmark event, and given these things take a lot of planning and preparation, Amanda got to work immediately, searching for locations, and concurrently launching the CFP.
With something new you can never be sure or certain how it will be received, what the interest level is, and how the community will respond. I can certainly say I was completely unprepared for the overwhelming excitement and positivity, topped by the ticket launch selling out completely within 45 minutes! Incredible.
The result of all this was Rails World 2023 last week at the Beurs van Berlage in Amsterdam, just in time to celebrate the 20th birthday of Rails itself.
Everything seemed to magically align, although it's clearly not magic, rather the result of a herculean effort by Amanda and her team. Along with a truly world class lineup of speakers, we had the release of Rails 7.1, a preview of the new Rails movie, the announcement of numerous new tools and frameworks like Kamal, Solid Cache, Strada, Solid Queue and Turbo 8, an on-stage AMA with 10 of the Rails core team. Really, this was something special.
Reflections
My main take-away from last week is the incredible excitement, positivity and sheer joy experienced over the two day event. Countless people told me it was their first ever Rails conference, many new to the framework which is fantastic, but also many long time developers who were attending for the first time since this was the first major Rails conference in Europe for a decade. Inspiring.
I wrote 6 months ago about the Rails Revolution that I thought Rails 7 was heralding, and what I've seen over the last week has pumped that up 100x. Rails 7.1 is simply jam-packed with incredible features and capabilities and as a developer currently living the "One Person Framework" dream, I'm having so much fun!
Thank you to David, the Rails core team and contributors, the Foundation, and everyone in the community, whatever you are doing. You're in the right place and I'm so happy to be with you all too. Viva Rails! and I hope to see you at Rails World 2024 in Toronto!